Square ABS Shower Cubicle
Is Our Square ABS Shower Cubicle the Right Fit for Your Small Bathroom?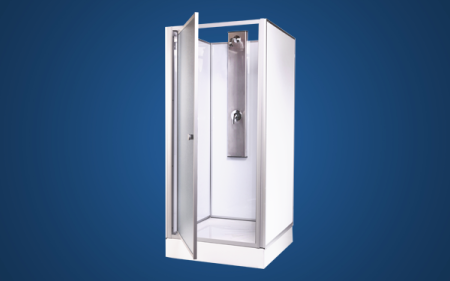 Small homes need to make the most of their available space. Nobody likes living in a cramped house with no room to move. When it comes to bathrooms, however, making the most of such a compact space is very difficult. All bathrooms have the same basic requirements – a toilet, a bathtub, a basin, a mirror, and some storage space. Fitting so much into an already confined room takes careful planning and some inventive solutions, which is where we at GEZA come in. Our range of innovative products, including our square ABS shower cubicle, has been specifically designed to cater to small bathrooms in need of some breathing space.
How It's Made
This model makes use of top-quality raw materials and production methods, ensuring that it lasts long and performs the way it should. The product features the use of ABS (acrylonitrile-butadiene-styrene), which is a type of thermoplastic that is strong, non-porous, and slick. The material is tough and resists corrosive substances and physical impact quite well, which makes it popular in the use of bathroom products. The tray and tray sides of the square shower cubicle are made from ABS and fibreglass, while the back and side panels are manufactured using ABS, polystyrene, and aluminium. Hardened glass is used for the hinged or sliding door.
The Benefits of the Square ABS Shower Cubicle
Showering comes with several benefits such as saving water and time, improved circulation, and even boosting one's immunity. A major draw of showers, however, is their ability to save space in a smaller bathroom by making use of wall height. Our square ABS shower cubicle fits neatly into the corner of the room, which frees up both floor and wall space.
You can also choose between a hinged door and a sliding door, the latter of which may work best if you don't have enough room to swing the door open. The white panels and transparent glass also create the illusion of more space, which is ideal for restricted bathrooms that do not get much natural light. Lastly, the overall design provides a clean, sophisticated aesthetic and adds an element of luxury to the room.
If our square ABS shower cubicle is a little too boxy for you, we also have units in rectangular and rounded corner designs. Want to find out more? We invite you to get in touch today and allow us to assist you with your ideas for that dream bathroom.