Kitchen Storage Units
Need Cool and Compact Kitchen Storage Units for Small Spaces? No Problem with GEZA!
Small kitchens can be cool! While a lot of people prefer larger spaces, it is not always possible for them to have one. At GEZA, you can have the freedom to create compact storage units despite have little space available. Starter flats and homes often have small kitchens and bathrooms and we provide practical solutions for tiny rooms. We have more than two decades of experience and a great reputation of being a renowned supplier of affordable, high-quality storage and bathroom solutions. We are the first choice to many high-profile clients that need to deal with limited space in temporary accommodations such as Wendy houses, containers, garden cottages, and low-cost housing.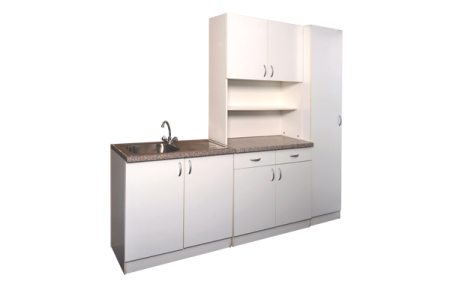 We know that your kitchen is one is a critical room in your home. A good kitchen adds value to the property, so the more functional it is, the better. People get together here to cook and socialise. This means that you need enough space to cook in comfort and our compact storage units can cater to your storage needs. Your kitchen can be designed to be a comfortable and welcoming space for all who enter it, while still being practical for washing and cleaning. We help you to make the most of your limited spaces with well-designed products created for you. We include everything you need for a fully functional and aesthetically pleasing space.
Our GEZA bathroom and kitchen units are designed for easy and quick installation and you can have a fully operational room within a day with our modern solutions. Maintenance requirements are low because our storage units are easy to clean and very durable. Our innovative products are affordable and we provide the perfect solutions for small spaces that need to be kitted out on a limited budget. Our freestanding kitchen solutions and relevant fittings can be installed in a jiffy, causing very little disruption to the household during installation. If you need the perfect partner to provide you with a cool, comfortable, and compact solution for your small kitchen, choose us. We pride ourselves on the high standard of the products we design and install at very competitive prices. We never compromise on the quality of our kitchen or bathrooms, so you will have storage units and bathroom solutions that will stand the test of time.
We have received various industry accolades. This is evidence of great design, durability, practicality, and aesthetic appeal of our storage units and other products. We see this as proof of our commitment to the needs of our clientele. Our customer service is exceptional and we strive to provide our clients with the best compact kitchen and bathroom solutions available on the South African market. We have a wide range of options when it comes to choosing products for your kitchen. We manufacture our products in a variety of colours and finishes that are guaranteed to satisfy even the most discerning clients.
All units are fitted with the necessary fixtures, handles, taps, and other fittings, and no wet work is required during installation, reducing your expenses even further. You can even customise your own look by choosing your fixtures and fittings separately. If you have a small kitchen that needs storage units to help you to make the most of your available space, we offer practical ideas and products. We know how to design a layout that will make the most of the space available. We know that clients desire choice and practicality and that there is no one-size-fits-all approach to storage units. This is why we work hard to develop our product ranges to deal with the challenges of modern lifestyles in a compact living space.
Our clients choose their own layouts and units and we arrange delivery and install them to help them get the most from their storage units and worktop spaces. We take great care to cater to the needs and tastes of all our clients. This means that, whether you need kitchen storage units or bathroom solutions for a small apartment, temporary housing, container conversions, or even luxury tented camps, we have the answer. Give our team a call today to discuss your needs and we will help you find the perfect solutions!